What is Visual IVR?
Visual IVR is a support platform that guides inbound callers to a web-based support experience – personalizing the support journey for customers already on their way to the queue. This technology seamlessly connects customers to self-service options and/or a support resource that can solve their problem/inquiry at first contact.
Why Should you Care?
Despite investments in a website and/or mobile app, a significant portion of your customers – 70% according to our research – are still utilizing the phone channel for assistance. Around 60% of customers will first attempt self-service and generally only half are able to self-service successfully. The ones that are not successful at self-service end up at your contact center with the others that prefer to call.
Visual IVR is providing a means for those customers - coming to you by phone - to seamlessly transition (while still on the phone) to a web-based support experience designed to address the needs of the caller.
See it in Action
This presents new growth opportunities for organizations. The traditional IVR investment can now be transformed into a win- win use case for both for the organization and the customer. If scanning a screen is quicker than listening to lengthy menus, why not make your current IVR system visual and easily accessible from your company's website or your customer's mobile phone?
Now you can expand the IVR experience by providing visually guided menus on your website or on your customer's Smartphone. Visual IVR provides your customers with a convenient menu driven interface to your IVR. This allows your users to quickly select the options they need, saving them time, and you money.
Turn this…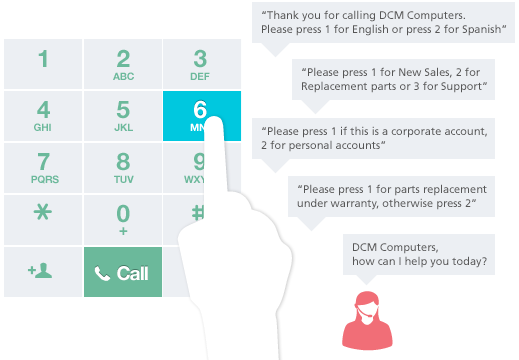 Navigating an IVR is cumbersome, waiting to hear all the right options to make sure you select the right one. Oh, and don't get us started on voice recognition…who doesn't love hearing "Sorry, I didn't understand".
And IVR on a mobile device is even trickier. The caller needs to constantly pull the phone away from their ear to press the right button. Let's face it, IVR and Mobile just are not made for each other.
So what does Visual IVR look like?
…into this!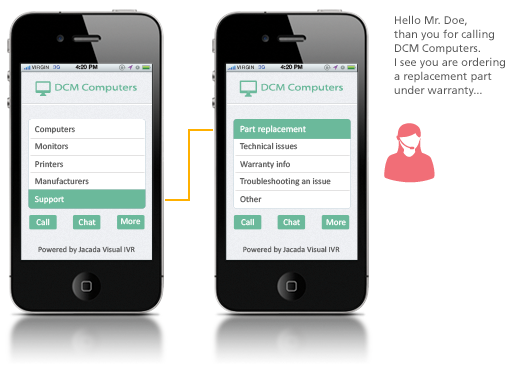 Visual IVR presents your users with a menu driven interface to your IVR system, which you can make available on your website or your mobile app. Now your customers can simply click or touch their way through the IVR system without listening to each option.
The best part? It works seamlessly with your existing IVR system. There is no costly rip and replace or rewrite. Visual IVR uses your existing IVR scripts, allowing your customers the choice of using a conventional IVR or the new Visual IVR. Visual IVR is sometimes known as Graphical Content Routing (GCR). Both terms refer to the ability to extend the IVR out to a visual medium across new touchpoints.
Visual IVR on the Web
Imagine allowing the customers who visit your website to click their way through your IVR without having to pick up the phone and listen to each voice prompt or struggling with voice recognition! We know the last thing you want to do is maintain another set of customer interaction scripts. So we make things easy for you: Visual IVR works with your existing IVR scripts and can be published through an easy to use menu driven interface on the web.